Why you should not clean up a blood spill on your own.
10/11/2019 (Permalink)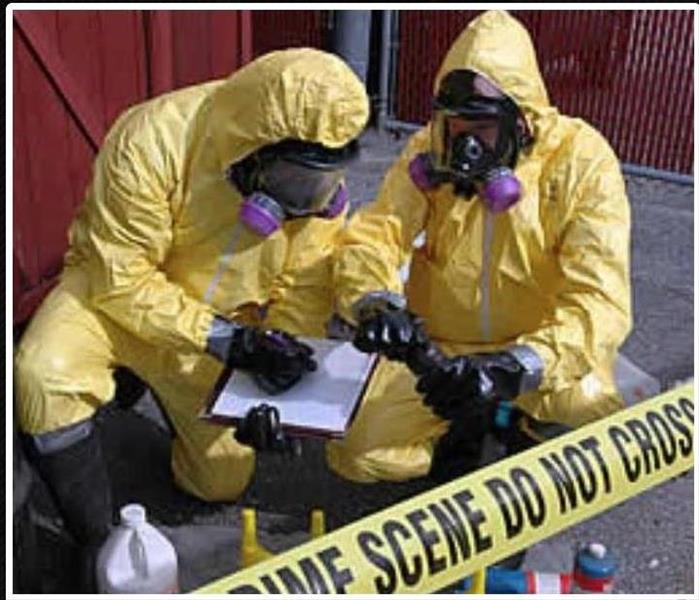 Accidents and crimes happen every day. Some of these incidents result in blood spills. While it may seem like the right thing to do at the time, victims of violent crimes and accidents should never attempt to clean up areas with blood for several important reasons:
PSYCHOLOGICAL & EMOTIONAL SAFETY
Going through a bloody accident or violent is a traumatic experience that can haunt you for years especially if its someone you know. Maintaining your emotional and psychological health is important so no further damage is created is critical in traumatic situations. Family members should protect each other during this critical recovery time which means that cleaning up blood yourself will not help heal the people involved. In fact, after a violent experience a person can develop Critical Incident Stress disorder, also known as CIS. OSHA published a CIS Guide about this disorder; it is one of the most important reasons not to clean up blood spills yourself. It's critical in situations like this to contact a professional team, such as SERVPRO, who will work fast and treat your family with sensitivity and respect during a traumatic experience.
PERSONAL SAFETY
Blood borne pathogens can pose immediate dangers to untrained persons attempting to clean up blood. The Center for Disease Control lists the most concerning blood borne diseases: HIV, Hepatitis B and Hepatitis C are three of the most common and dangerous. C-Diff and MRSA are also deadly bacteria that are easily transmitted through blood. These pathogens should be considered as deadly and dangerous from either accidents or crimes blood spills which require professional biohazard cleaning services.
SERVPRO can help with any type of blood cleanup including suicide cleanup, homicide cleanup, decomposition cleanup, and industrial accident scenes.
When faced with tragedy, do the right thing: protect your family and loved ones and call in professionals. We are here to help and will make it a priority to assist you in a prompt and timely manner.